The Yard is a unique property development in the Reitdiepzone, a brand-new residential area close to the centre of Groningen. The Yard offers spacious, green and high-quality housing, situated directly on the water, adjacent to a green zone.
The Yard has 160 sizable apartments, ranging from 50 to 115 square metres. Gas-free and energy efficient, the building features a large inner garden. With an underground parking garage for 181 cars and over 500 bicycles, and great accessibility to public and private transport.
The Yard is located directly on the Reitdiep waterway. Dating back to the 13th century, it served as an important trade route for ships supplying the city of Groningen. With the transformation of the Reitdiepzone from an industrial zone to a residential area, the waterfront is being redeveloped as a continuous green zone, with broad footpaths and bike lanes, perfect for recreation. Soon, the residents of The Yard will be able to enjoy peaceful wide-open views of slow boats sailing past.
In keeping with the newest findings on energy efficiency and green living, The Yard implements countless environmentally-friendly practices in both construction and finishing. The gas-free design is constructed with optimum use of wind, light and climate conditions in mind and maximises the use of green materials. The Yard also features a beautifully designed communal inner garden facing the Reitdiep waterway, offering splendid views of lush green foliage year-round.
Living in The Yard offers significantly more space compared to housing in similar developments in Groningen. The units in The Yard have an average LFA of 82 sqm, ranging in size from 2 to 4 rooms and 50 to 115 square metres. Each apartment comes with spacious storage and its own terrace, balcony or loggia. Several units even feature double outdoor spaces.
The Reitdiepzone is a brand-new residential area, located between the city centre of Groningen and the Zernike campus. Already, this outstanding central location has great accessibility, both by car and by bicycle. It is within walking distance of the popular Paddepoel shopping centre. In the years to come, future development of this desirable neighbourhood will provide even more connectivity.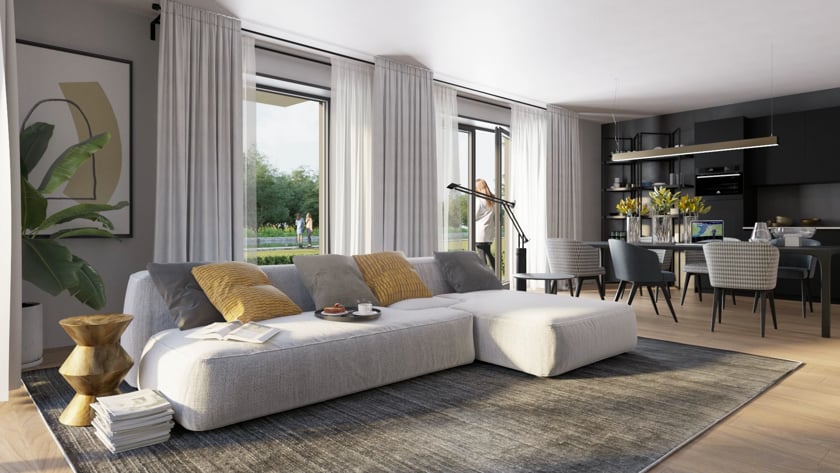 All units will be delivered turnkey and include a contemporary kitchen, as well as full bathroom facilities. The kitchens come complete with brand new built-in appliances, including a convection microwave oven, refrigerator, electric cooker, dishwasher and modern extraction hood. The bathrooms are furnished floor-to-ceiling with contemporary tiling and feature spacious shower areas with one or two washbasins and a designer electric radiator. The apartment walls are furnished with durable fiberglass wallpaper and painted in colour. All units come fully equipped with underfloor heating featuring individual room controls. Tenants need only provide their own furniture, flooring and window coverings.
Paddepoel
shopping center
University
Medical center
The Yard is located in the Reitdiepzone, a brand-new residential area close to the city centre, with many amenities nearby – including several university faculties, the Zernike campus, Reitdiep harbour and popular shopping centre Paddepoel. The Yard offers great accessibility by car, and important destinations such as the train station, Groninger Museum and lively inner city are circa 10 minutes away by bike.
START CONSTRUCTION
November 2021
CONSTRUCTION TIME
Approximately 24 months